Carpet Tufting Machine
Production of Multi-level Loop Pile Carpets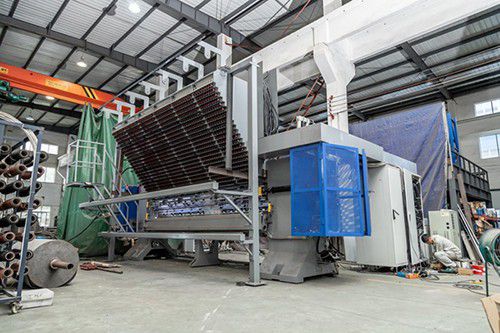 This carpet tufting machine is mainly used for manufacturing multi-level loop pile tufted carpets, which are commonly found in a variety of household and commercial venues. A yarn feed system is equipped at each needle to independently feed individual yarns and servo motors are used to control every single yarn, the loop pile height is adjustable within a range of 3-12mm.
Examples
Carpet patterning is achieved by transversely shifting the needles, and 64 varying pile heights are available at each needle. The working width of this carpet making machine can reach 4100mm or 5100mm, and the running speed is up to 1000rpm.
Advantages
Specifications
Gauge
8+4 (1/12 inch)
6+6 (1/12 inch)
1/8 inch
Pattern repeat
Full repeat pattern or as per customer's request
Motor power
11kW*2(2m) 15kW*2(4m)
11kW*2(2m) 15kW*2(4m)
11kW*2(2m) 15kW*2(4m)
Pile height
3-12mm
3-12mm
3-12mm
Mechanical speed
600-1000rpm
Tufting machine is a quicker carpet production approach in comparison with carpet weaving machine, and it is becoming a popular choice by carpet manufacturers. Wuding(WDCM) is a tufting machinery supplier that designs and produces carpet and artificial turf making equipment that uses tufting needle to penetrate the yarn into the backing cloth. We are committed to developing exceptional tufting machine technology to fit the customer's needs of tufted floor covering and soft-surface flooring. We can also provide tufting gauge parts including tufting needles and tufting loopers to ensure your existing textile tufting equipment runs smoothly. Please give us a call or email to learn more about our tufting machines for your synthetic turf manufacturing and area rug construction operations.
Other Products