Carpet Tufting Machine, with Double Sliding Needle Bar
Production of Multi-level Loop Pile Carpets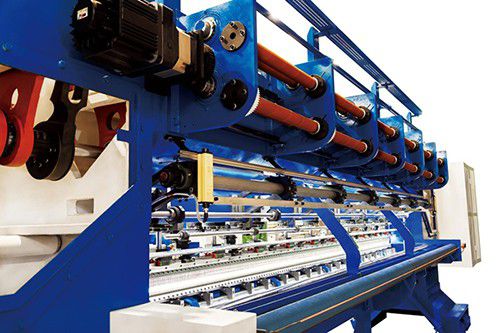 Wuding(WDCM) carpet tufting machine with double sliding needle bar (DSNB) is a pioneer achievement in the domestic market. The greatest feature of this carpet production machine is a pair of needle bars that move transversely across the machine, each side can be up to 20 jumps and the maximum pattern size tufted is 20cm. Besides, removable yarn feed rolls are adopted for easy yarn control and quick troubleshooting, significantly saving time when threading the yarns and greatly improving working efficiency. The working width of these tufting machines can reach 4100mm or even 5100mm, and the running speed is up to 600rpm.
Examples
Specifications
| | |
| --- | --- |
| Gauge | 5+5 (1/10 inch) or 4+4 (1/8inch) |
| Max. pattern size | 20 jumps per side |
| Motor power | 11kW*2 |
| Pile height | 3-10mm |
| Mechanical speed | 400-600rpm |
Tufting machine is a quicker carpet production approach in comparison with carpet weaving machine, and it is becoming a popular choice by carpet manufacturers. Wuding(WDCM) is a tufting machinery supplier that designs and produces carpet and artificial turf making equipment that uses tufting needle to penetrate the yarn into the backing cloth. We are committed to developing exceptional tufting machine technology to fit the customer's needs of tufted floor covering and soft-surface flooring. We can also provide tufting gauge parts including tufting needles and tufting loopers to ensure your existing textile tufting equipment runs smoothly. Please give us a call or email to learn more about our tufting machines for your synthetic turf manufacturing and area rug construction operations.
Other Products